Oops, I nearly forgot to post this before going to bed. Otherwise I would have tried to adjust the quality a bit more, but whatevs.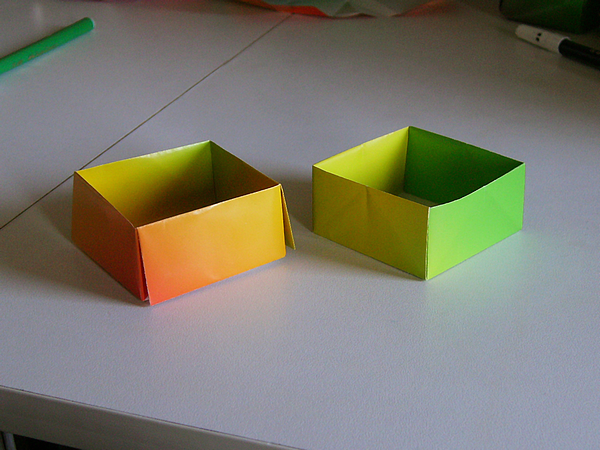 On the left is the one that I've been making for some time, on the right is the inside-out version that I came up with a few days ago. You can't see it because I apparently wasn't thinking when I decided at which angle to hold the camera, but the inside of the left one is entirely coloured whereas the "floor" of the right one is white. Both have a second layer of wall that sticks off a bit on one side of each ... uh, side (...), but in one case it's on the inside of the box and thus not very noticeable. I wouldn't keep tiny objects in that one because they'd get stuck under the flaps.
Now what I'd like to know is, has anybody ever seen a box like these before?! Because the idea is so simple that I can't believe I'm the first one to think of it.
Uh oh, I really need to go to bed. *runs off*